Boston Construction Accident Lawyer
Just because a construction site is, by definition, a hazardous place to work, doesn't mean that when people are injured there, they don't have legal rights. A construction worker doesn't enter onto a construction site and say "I realize this can be a dangerous place to work and I hereby give up all my legal rights if I am injured here." Far from it. Regardless of the risk of injury that accompanies construction sites, all parties having an interest in that project - from the property owners, to general contractors, to subcontractors, to machinery and equipment suppliers - have a responsibility to make that construction site as safe as possible. Accidents and risks, such as scaffolding falls, can be prevented by implementing strict and enforceable safety standards, for example: Providing warnings of the hazards present at the site; Hiring qualified and careful employees; Carefully coordinating all job safety, and supervising compliance with all applicable safety laws and standards. When these practices aren't followed, when construction schedules are rushed or inexperienced crews hired, terrible injuries can result. If you, a loved one, or a colleague has been hurt while on the job, contact a experienced construction accident attorney in Boston. Our firm represents the injured throughout Massachusetts.

Accidents and injuries that occur on construction sites are an interesting kind of legal 'hybrid'. They commonly present two different types of legal actions: Because a great many of the types of injuries that occur on construction sites are caused by either the negligence of the construction worker or the negligence of a co-worker, and because the injury occurred by definition while on the job, many of these types of injuries are covered by workers' compensation laws in Massachusetts. However, on many occasions, injuries occur at construction sites that are not caused by the worker himself, or by a co-worker, but instead are caused by "outside" persons that are not employed by the same employer as the victim.
These "outside" persons or companies are known as "third parties". A "Third Party Claim" in this situation is not governed by the exclusivity provisions of the Massachusetts Workers Compensation Act. As a result, a construction worker who has been injured due to the negligence of a party (again, a person or company not employed by the injured worker's employer) can file a lawsuit in the regular, civil court system to recover compensation for his injuries. These laws can be very complicated. As you have probably seen by now, most laws aren't written to be easy.
Do These Types of Injuries Happen Only At Major Commercial Construction Sites, Such as Office Buildings and Skyscrapers?
No. Construction Site Injuries can occur in many places: At your own home, a major industrial development, a highway project, or anywhere.
Who might these "third parties" be, who can be sued in civil court outside of the workers' compensation system?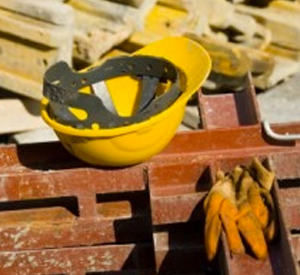 Some examples include:
The Property Owner(s)
Heavy Equipment Manufacturers
Tool Manufacturers
Contractors Who Are Not Employed By The Employer Of The Injured Victim
Ladder Manufacturers
Chemical Manufacturers
Materials Suppliers
Injuries that occur at a construction site can often be catastrophic. They can include, but certainly aren't limited to:
Amputation of hands or limbs
Scarring and disfiguring burns
Back or neck injuries caused by falls or vehicle collisions
Spinal cord injury and paralysis
Blindness
Traumatic brain injury.
These types of injuries can involve lifelong costs to a victim for round-the-clock care, physical therapy, adaptive equipment such as wheelchairs, hospital beds, specially-equipped vans, and many other related expenses.
What Types Of Damages Is Someone Who Is injured At A Construction Site Entitled To Receive In Court?
Generally speaking, the same types of damages as any injury victim suing in civil court. These include, but are not limited to:
Medical and Hospital Expenses – Present and Estimated Future Costs
Lost Wages – Present and Estimated Future Earning Capacity
Professional Care from Health Care Providers Such as Physical Therapists
Pain and Suffering
Possible Loss of Consortium Claims for Spouses of Injured Victims
We have many years of experience in investigating and litigating construction site injuries, and in securing needed compensation for victims of these types of injuries. Our Boston construction accident lawyer William Kickham knows how to find the evidence and answers we need. We know how to prove liability, and we know how to maximize the compensation you deserve to receive for those injuries. If you or someone you know has been injured at a construction site in Massachusetts, contact us for a free, no-obligation consultation.