What to Do If You've Been in a Massachusetts Car Accident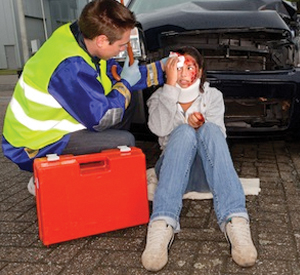 Have you been injured in a car accident in Massachusetts? The Boston, Massachusetts Law Offices of William D. Kickham & Associates are experienced attorneys in the area of car accidents and the personal injuries that can result from them. Here are some of the actions you should take immediately after a car accident, to safeguard your legal rights.
1) Pull Over, Immediately
Under Massachusetts law, you must stop at once if your vehicle hits another motor vehicle, including trucks, motorcycles and bicycles, or a pedestrian, an animal, or if your vehicle hits someone else's property. Pull over to the side of the road and park in a safe place away from traffic.
2) Dial "911"
Call the police at once, by dialing "911" on your cell phone. If you DON'T, you risk your insurance company denying coverage, and in the worst cases you can be at risk for prosecution if you do not report a collision.
3) Stay Safe
The "curiosity factor" typically causes other cars to slow down and view an accident scene, from both sides of the road. What does that mean? That your accident scene can fast become the scene of yet another car accident. Even debris from your collision can wind up in the road and pose hazards that can lead to additional crashes. After pulling over to the side of the road, if possible use flares, flashlights or other markers to alert other drivers.
4) Accept Medical Treatment
Even if you don't feel injured or hurt - make sure to accept medical treatment that is offered. Far too frequently, accident victims discover "down the road" or later on, that their injuries, which they thought were minor, prove to be otherwise. As time goes by, many times, accident injuries get much worse, especially if treatment was not sought quickly. This is because many of the injuries that result from car accidents are called "soft tissue injuries," and they can worsen over time. Make sure to also report all injuries to the law enforcement officials who respond to your accident scene.
5) Cooperate With Law Enforcement
Whatever you do, as Massachusetts car accident attorneys, we strongly recommend that you refrain from admitting any guilt in connection with your collision. When you are asked by a police officer or state trooper to provide information, make sure to cooperate. However, do not talk to the other drivers or passengers involved in the crash, except to exchange contact information. You also have the right to ask law enforcement officers to document any evidence at the scene of the accident. In addition, control your temper. This is NOT the time to swear or harass the other driver and passenger.
6) Take Notes
Listen carefully to what is said by others involved. If you have a note pad in the car - or a Smartphone -create a document and take notes of statements made by the others involved in the collision, as they can prove useful if legal action arises from the collision. Include the names and contact information of those present, including any witnesses. If you are physically unable to do so, ask that this be done by friends or relatives who are either with you or meet you at the scene. It is also vitally important that you jot down notes about the accident as soon as you can; it can assist your recall of the circumstances, later. Write down a description of the events that occurred, including
The time of day and date
How the accident happened
Weather, traffic and road conditions
Your injuries
Road obstructions or obstacles
Potholes
Uneven lanes
Vehicle skid marks
Any other details.
By doing so, you will be prepared with as much evidence and documentation as possible, without later forgetting this critical information when it will be needed by your attorney.
7) Take Photos With Your Camera Or Smartphone
This has become a lot easier because of smartphones. Take photographs of the accident scene as soon as you can after the collision occurs. If you can't take photos immediately, return to the scene as soon as possible to do so, or ask a friend to do so. Photograph any obstacles, obstructions, adverse road conditions, signs, trees, vegetation, and any other relevant information. Make sure to photograph the scene from a variety of angles - importantly, at the same time of day that your accident occurred. At the same time, photograph your injuries to preserve documentation of the harm you suffered because of the crash. You should do this regardless of what you look like, and especially at the accident scene and in the days afterward. Now is not the time to be concerned with your appearance, or whether you look 'bad.'
8) Call Your Family
You should call your immediate family as soon as possible to let them know what has happened to you, and to inform them of your whereabouts. If possible, have a family member help you out by contacting our legal offices on your behalf, at (781) 320-0062 and (617) 285-3600. This will give you a "head start" in preserving your legal rights.
9) Keep Records
After an accident, you will most likely be contacted by insurance companies, law enforcement officers, attorneys and others. Make sure to document any such contact, and write down who contacted you, their employer, their job title and why they have contacted you. Include dates and times of contacts and summarize these conversations. Save all written communications as well. Above all, seek legal advice from the Boston, Massachusetts law firm of William D. Kickham & Associates before you speak to insurance companies or lawyers representing other parties to the accident. We can be reached 24/7 by calling us at Ph.: (781) 320-0062 or Ph.: 617-285-3600, or email us confidentially, and we will respond rapidly.
10) Contact Your Insurance Carrier and Your Attorney
As soon as you can, call your insurance carrier at once - but only to report that the accident occurred. Do not answer any other questions about the accident other than the date, time, and location of the accident. Assuming that you wish to pursue a claim for personal injury damages, advise your insurance company that you will be contacting an attorney, and that you will advise them of the name and contact information for that law firm soon. This is important to do, because should you neglect to tell your insurance company that you have been involved in a car accident, they may refuse to pay any insurance claims that you make. Many insurance companies make notification a requirement of your coverage. You will be asked to provide your insurance carrier with a statement about the circumstances of the crash and about any injuries you suffered.
However, under no circumstances should you ever provide your insurance company with any other information other than the date, time and location of the accident. Nor should you speak with other persons involved in the accident or their insurance company or their attorneys, without first obtaining legal advice from qualified auto accident attorneys such as The Law Offices of William D. Kickham & Associates. It is very easy for the inexperienced person to "say the wrong thing," and as a result prejudice their legal position.
Make The Right Choice For Your Boston, Massachusetts Car Accident Lawyer
At the Law Offices of William D. Kickham & Associates, we offer FREE CONSULTATIONS and we will travel to you - even if you're in the hospital - to discuss your accident and your injuries. Remember, you pay NO FEES UNLESS WE WIN YOUR CASE FOR YOU. Call us at Ph. (781) 320-0062 or Ph.: 617-285-3600, or email us. Let us show you what we can do to help you recover the maximum financial amount possible for your car accident injuries.
If you recognize Attorney William D. Kickham 's name, it's probably because you've seen him on television or in the news. News reporters often seek out Attorney William Kickham for his legal expertise in the field of Massachusetts injury law. Some of these news organizations include Court TV (now In Session on HLN ,) Fox News TV-25/Boston, The Boston Herald, WBZ-AM Radio 1030, WCVB-TV5/Boston, Nightside With Dan Rea, Greater Boston With Emily Rooney, Money Matters Radio/Boston, and The Metro Newspaper/ Boston.