Escalator and Elevator Accidents
Massachusetts Escalator and Elevator Accident Attorneys
Going up?
Those are two simple words we've all heard, but underneath them lurks the possibility of numerous accidents every day. That's because elevators and escalators are ubiquitous in our society: Massachusetts has thousands of escalators and elevators in public and private buildings across the state, in a variety of settings: Shopping centers, office buildings, hotels, subway stations, and college campuses. Escalators and elevators are required to undergo annual safety inspections, and several state regulations govern their design and maintenance. Yet, in spite of these safeguards, hundreds of individuals are injured each year on escalators and elevators that are defectively designed, inadequately inspected, or poorly maintained. And when these accidents occur, the injured person will need a Massachusetts escalator injury lawyer, or a Massachusetts elevator injury attorney, in order to recover just compensation for the injuries he or she has suffered.
Common Causes of Massachusetts Escalator Accidents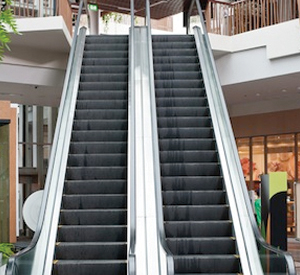 Most Massachusetts escalator accidents are caused by common defects:
Side entrapment involving soft shoes such as Crocs
Improper installation, such as missing safety cables and side panels
Sudden braking or sudden stops
Missing and loose parts, including gears and "comb plates"
Inadequate or irregular maintenance
In addition, escalator accidents very often involve young children, who are attracted to the moving parts on the escalator, but are not yet old enough understand their dangers. Children are frequently injured in side-entrapment cases, because they stand very close to the escalator side panels as they try to hold onto the railing. Their footwear or hands and feet – even hair - can get trapped in the escalator's moving parts. Parents, especially, should have their children hold their hand – and not the railing.
Litigating elevator and escalator accidents requires a considerable amount of legal experience. This is because these types of cases can become very technically complex due to the intricate engineering design of many interrelated, moving parts of these types of machinery, as well as their complex electronic control systems. Hence, it is very important that the law firm you choose to represent you in your Massachusetts elevator accident or Massachusetts escalator injury be very experienced with these types of cases. Otherwise, your case is likely to suffer.
Common Causes of Massachusetts Elevator Accidents
Have you ever taken the Disney World thrill ride on the "Twilight Zone Tower of Terror?" That's a ride in which you're trapped in an elevator while it rapidly drops down 13 stories, practically causing your heart to stop. At Disney World, that's considered "fun."
In the real world, it's anything but fun. Any number of things can go wrong on an elevator including:
Sudden drops of the elevator or braking failures
Improper design of lifting and braking systems
Improper or irregular maintenance
Faulty door movements or defective safety strips on doors
Car landing incorrectly, either above or below designated floor
There are several common accidents associated with elevator malfunction. Some of these accidents include slip and fall accidents due to elevator misalignment at floor stops, elevator collapse, limb entrapment due to faulty elevator doors, or falls due to defective brakes or strained cables. There is always the risk that the elevator cables could suddenly snap or the doors could open mid-ride, as occurred in 2007 when two New Yorkers plunged 11 stories down an elevator shaft after the door gave way.
Americans take almost 120 billion elevator rides annually. According to the United States Bureau of Labor Statistics, elevators kill about 30 people and seriously injure about 17,000 people annually. Of the deaths, nearly half are maintenance workers. Hence, it's not difficult to see how a great many people each year are injured in Massachusetts elevator accidents.
Steps You Should Take if You are Injured in a Massachusetts Elevator or Escalator Accident
Obviously, the primary thing to attend to after any type of accident is to obtain appropriate medical treatment for your injuries. As soon as possible after the accident occurs, the owner or manager of the property involved should be notified of the event. Next, you need to know what to do – and equally important, what not to do – to protect your legal interests as an injury victim. As Boston Massachusetts elevator and escalator accident attorneys, we have seen too many injury victims not know what to do after experiencing such an accident. Because of this, we have prepared a FREE article, "The Top 10 Things To Do After Suffering An Accident Or Injury In Massachusetts." This article contains important information for a variety of Massachusetts accident victims who are injured due to someone else's negligence, including Massachusetts escalator and elevator injury victims. Click here to receive this FREE article, with our compliments.
Make the Best Choice for Your Massachusetts Elevator and Escalator Accident Attorney
As we said above, due to the complex engineering issues presented in these cases and the legal expertise required to successfully address them, these cases require a law firm that is very experienced in this specific area of litigation. It is important that you do not hire a "general practice" law firm to litigate such a case; you will probably experience poor results if you do. As a Boston, Massachusetts elevator and escalator accident law firm, we have worked with hundreds of serious Massachusetts personal injury victims, and are experienced in the key legal strategies strategies required to recover financial damages for our clients. Click here to read about our legal successes.
In cases like these, it is important to act quickly after the accident: A thorough investigation needs to be begun, witnesses must be contacted and interviewed appropriately, important evidence must be preserved, and insurance companies and their lawyers must be notified. Call us at (781) 320-0062 or (617) 285-3600 or click here to send us a confidential email. We will respond promptly to your phone call or email, and we offer all our potential legal clients a free initial consultation of up to 30 minutes. YOU WILL OWE US NO LEGAL FEES UNLESS WE RECOVER FINANCIAL COMPENSATION FOR YOU. If necessary, we can travel to your home or hospital if you are too injured to meet at our offices in Westwood and Boston.
You might recognize Attorney William D. Kickham's name. If so, that's because Boston, Massachusetts injury lawyer William D. Kickham is an experienced legal commentator for prestigious media outlets, including Court TV (now In Session on HLN,) Fox News TV-25/Boston, The Boston Herald, WBZ-AM Radio 1030, WCVB-TV5/Boston, Nightside With Dan Rea, Greater Boston With Emily Rooney, Money Matters Radio/Boston, and The Metro Newspaper/Boston.
Put that experience to work for you. You won't be sorry.