Stairway / Staircase Accidents
Boston, Massachusetts Stairway / Staircase Accident Lawyers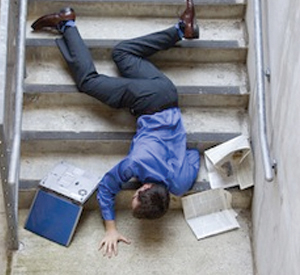 Remember that famous scene in Gone With The Wind when Scarlett O'Hara falls down the stairs? A lot of people still cringe when they think about it. That's because stairway and stairwell injuries are a common cause of serious injury - and sometimes, even death. These types of personal injuries are more common that some people might expect. Both outdoor and indoor stairways are extremely common areas for trips and falls. Consider these statistics from the National Safety Council.
Over 1 Million injuries occur each year as the result of stairway falls.
Staircase and stairway accidents constitute the second leading cause of accidental injury, second only to motor vehicle accidents.
Each year, there are 12,000 stairway accident deaths.
These statistics are reminders that even just using a simple stairway, can be quite dangerous. Fall down a staircase, and more than 100 pounds of weight will fall with you. Never mind a broken arm or leg - you can break your neck or back very easily. What does all of this mean for the average person? These statistics reveal that falls down stairs, staircases and stairwells are a very real problem in everyday life. Many of these falls are caused by various types of negligence.
Defects in the stairs, stairwell or stairway
Improper or inferior lighting
Dangerous stair risers
Damaged or faulty steps
Or defective railings or handrails.
Stairs and staircases, of course, are present in a variety of environments: In apartment buildings, in homes, in commercial establishments such as restaurants and bars, and in workplaces. If you have suffered in a fall down a stairway, staircase or stairwell, you need to contact an experienced Boston, Massachusetts stairway injury lawyer, at the Law Offices of William D. Kickham & Associates.
Massachusetts Stairway Injuries and The Law
Injuries from stairway accidents and staircase accidents fall under an area of law known as Massachusetts Premises Liability. When you suffer a Massachusetts stairway injury due to defects or hazards on the property, the property owner is usually liable for the injuries that result. Premises owners or individuals who occupy or rent a property are expected to ensure that their property is reasonably safe for lawful visitors to enter on and use.
Under Massachusetts state law, customers in commercial or business establishments -- i.e., individuals invited to a property to conduct business -- have the right to expect that the premises are reasonably safe for persons to lawfully enter onto. That's because property owners have an obligation to inspect their property regularly for hazards and to correct the hazards, and warn visitors of any defects or dangers.
Guests in private homes are also protected under the law. Property owners who invite friends onto their property and into their homes are obligated to correct any property defects or dangers of which they are aware, or to warn their guests about such dangers. It's a fact that even trespassers are protected under Massachusetts law. For example, property owners who have reason to know that trespassers may come on to their property are legally required to warn such trespassers of any serious dangers that might exist on their property. (You're surprised, we know.)
If property owners - whether homeowners or businesses - breach these legal responsibilities, they can be held liable under Massachusetts law. If it can be proven that their negligence was the cause of your injury, then you can recover compensation for your injuries and losses including medical bills, lost wages and pain and suffering. At the Law Offices of William D. Kickham & Associates, our Boston, Massachusetts staircase injury lawyers are experts at handling everything involved in stairway and staircase accidents from initial investigation to final arguments, in order to achieve maximum legal and financial results on your behalf.
Make The Right Choice For Your Massachusetts Staircase Injury Law Firm
Bear in mind: If you have suffered a personal injury due to someone else's negligence and you wish to recover financial damages -- you can't do this alone. Successful legal claims in this area of law require the services of an experienced Boston personal injury lawyer. Why? Because the party that you are claiming caused your injuries will almost certainly be represented by a liability insurance company - more specifically, the insurance company's lawyers. And dealing with a liability insurance company without the benefit of an experienced Boston, Massachusetts stairway injury attorney in front of you, is a prescription for disaster. Our firm can gather all the necessary legal and medical evidence and make the right arguments to assure that you receive the maximum damages and financial compensation possible.
We are successful Boston, Massachusetts stairway injury attorneys, who offer experienced legal counsel when someone has been seriously injured in a fall down a stairway. If you or someone you care about has been injured in such an accident, click here to receive our FREE article,"The Top 10 Things To Do After Suffering An Accident Or Injury In Massachusetts." This feature article contains valuable information for Massachusetts stairway injury victims, discussing the legal steps recommended after suffering a fall down a stairwell or a staircase. You'll discover information you would not otherwise know, such as how to best protect yourself after your injury, and how to proceed in the days following such an incident. We have worked with thousands of Massachusetts personal injury victims, and we know exactly what strategies are needed to recover the maximum amount of financial damages that our clients deserve. Read about our legal case successes by clicking here.
If you or the person you are assisting is too injured to travel to our offices, we can travel to your home or hospital room to assess your legal case. If we accept your case, you will pay absolutely NO FEES unless we win your case. Contact us at Ph.: (781) 320-0062 or Ph.: (617) 285-3600 or click here to send us a confidential email. We offer all of our potential legal clients a FREE INITIAL CONSULTATION of up to 30 minutes and will respond promptly to your call or email about your injury.
If you recognize Attorney Kickham's name, it's because Massachusetts injury lawyer William D. Kickham is a professional legal commentator for a variety of top-notch media, including Court TV (now In Session on HLN,) Fox News TV-25/Boston, The Boston Herald, WBZ-AM Radio 1030, WCVB-TV5/Boston, Nightside With Dan Rea, Greater Boston With Emily Rooney, Money Matters Radio/Boston, and The Metro Newspaper/ Boston. Reporters call on Attorney William D. Kickham because they know he is an expert in the field of Massachusetts injury law.
Put that expertise and experience to work for you, in seeking damages and compensation for your Massachusetts stairway injury and Massachusetts staircase injury. You won't be sorry.