Snow & Ice Injuries
Boston, Massachusetts Snow and Ice Accident Lawyer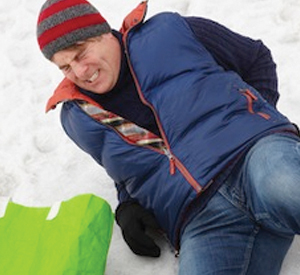 Unless you're a winter sports enthusiast who absolutely loves cold weather, winters here in New England can be hard to bear. For a little over five months a year, you can run the risk of serious injuries from falls on snow and ice. It's as much a lifestyle hazard here as sunburns are in the tropics.
At the Law Offices of William D. Kickham, our personal injury attorneys fight to protect the legal rights of our clients who have been injured due to someone else's negligence – especially due to accidents involving winter weather. These types of injuries usually occur due to a property owner failing to take required measures to ensure that his property is safe for lawful visitors to walk on. Injuries from falling on snow or ice can often be the butt of jokes, which is really too bad, because these types of injuries can be very severe. The people who tell these jokes should ask themselves how they would feel if they broke their arm, leg or back due to someone else's negligence in failing to clear their property of snow or ice. The statistics make it clear: Each year, over a third of adults in the U.S. suffers serious injuries due to falling on snow or ice. Almost 20,000 will die each year as the result of these injuries, and approximately 600,000 are hospitalized.
Here is an example of a snow and ice accident that actually happened to a colleague that we know. An active woman in her 40's, she was leaving a major department store, carrying several bags and packages of purchases that she had made. It was a cold night in January, with little to no snow on the ground that she could see, so things seemed safe to her. But what was there? Plenty of black ice, very hard to see, and with no sand or ice-melt on top of it. Faster than you can say, "broken radius," she slipped on the ice, fell, and broke her wrist in two places. That led to months and months of X-rays, surgery, physical therapy, hand and wrist exercises, and lots more. Her husband wound up doing a wealth of everyday things for her – such as opening cans of groceries for her, when she wanted to eat lunch, buttoning her blouses, and blow-drying her hair. It's hard to imagine how one slip can have such intense consequences and impact – but it can. Today, five years later, her wrist has healed, but she still complains that it is not completely back to normal.
If you are reading this page, and have slipped and fallen on snow and ice, you may need a Boston snow and ice accident law firm. Call us right now at (617) 285-3600 or (781) 320-0062 and we will return your call promptly, to discuss your legal case. Or you can send us a confidential email by clicking here. We also make house and hospital visits to our clients, and have offices conveniently located off Route 128 in Westwood, and in downtown Boston. According to Massachusetts law, you have 30 days to notify the property owner about the accident, so if you have been injured in an accident like this, do not delay in contacting us.
Experienced Boston Ice and Snow Injury Attorney
Here's something very interesting, which you may not be aware of. In 2010, Massachusetts law governing liability for accidents on snow and ice changed dramatically. What happened? Briefly, the law now heightens the responsibility of property owners for snow and ice accidents that occur on their property. As it stands now, property owners are responsible for the removal of ice and snow, and keeping their premises reasonably safe – they can't rely on a legal distinction that used to center on whether the snow or ice was a "natural accumulation" due to weather, or an "unnatural accumulation" due to someone or something putting the snow and ice where the injury occurred. Prior to this recent Massachusetts Supreme Court decision clarifying the rights of people who suffer injuries in a snow and ice fall, many injury victims sometimes could not recover damages against the responsible party, due to that technical and confusing distinction between "natural" and "unnatural" accumulations of snow and ice. Gratefully for such injury victims, those important legal standards have now been simplified. They require a property owner to remove snow and ice from areas where other people can be reasonably expected to traverse, no matter how the snow and ice got there. This means clearing sidewalks and walkways immediately after a snowfall or ice formation, and clearing out gutters and downspouts of ice, and sanding all affected areas.
In Massachusetts, the law now makes clear that you have the right to expect that you can safely walk outside in the winter months, regardless if it's a local sidewalk, or the parking lot of your favorite supermarket or mall, or on someone else's private property. Please bear in mind: If you have been injured because you have slipped on snow or ice, this may be evidence of negligence and you may be entitled to recover financial damages for your injuries.
Who is Liable for Injuries in a Fall Due to Snow or Ice?
Typically, in our experience as Boston snow and ice accident attorneys, it is the property owner who is responsible, and that party can be a homeowner, a private company or even a municipality. In addition, a property manager who is responsible for property maintenance, can also be held liable. If the snow and ice removal was not done correctly, it is also possible that the business contractor who was hired to remove the snow and ice can be held liable. Whatever you do, if you have been injured due to an ice or snow accident or fall, do not take legal matters into your own hands. You need competent and experienced legal counsel to represent your legal interests and to file suit on your behalf, in what is legally defined as a "premises liability" case. Why? Because the party or person that you sue, will almost certainly be represented by a liability insurance company – and their attorneys fight these claims very aggressively.
What to do If You Have Suffered an Accident on Snow or Ice
First, obviously, you should seek medical treatment. As our example above demonstrates, injuries on ice and snow can be quite serious. They might involve fractures, broken bones, nerve damage, spinal cord injuries, and in some cases, traumatic brain injury. And here's something important to know: Sometimes the damage from these types of falls is not immediately apparent, which means that you should definitely seek medical treatment at once, so that you have a record of your initial injuries, in case more symptoms or damage arise days later.
Second, use your Smartphone to take photos of the area where you fell. Securing photographic evidence of the accident site immediately after the accident is often critical to aiding in a successful outcome to your legal case. Why? Because the property owner is almost certain to alter the accident site – "fix it up" – afterward, to remove any evidence of negligence on their part.
Third, get in touch with a personal injury law firm that is experienced in snow and ice accident cases, such as The Law Offices of William D. Kickham at (617) 285-3600 or (781) 320-0062. We have a proven record of success in Boston personal injury lawsuits.
For more important information from our legal offices click here to receive our FREE article about "The Top 10 Things To Do After Suffering An Accident Or Injury In Massachusetts." This document contains critical information, and will educate you about how to protect your rights if you are injured, following an accident or injury caused by another person's negligence – and this includes a fall on ice or snow in Boston. Many people don't know how to proceed following a fall on snow or ice or other kinds of injuries that are caused by someone else's negligence. But in this article you'll discover how to best protect yourself or your loved one and how to move forward following suffering a personal injury. The Law Offices of William D. Kickham has worked with many personal injury victims, and is expert in the legal strategies needed to recover maximum financial damages in these types of cases.
We offer all our legal clients a FREE INITIAL CONSULTATION of approximately 20 minutes and will respond promptly to your inquiry about your Boston snow and ice injury. We can travel to your private home, or hospital if necessary, to assist with your legal case. You will pay absolutely NO FEES unless we win your case on your behalf. Contact us at (781) 320-0062 or (617) 285-3600 or click here to send us a confidential email. We respond to all calls and emails rapidly.
Boston, Massachusetts personal injury lawyer William D. Kickham is a legal commentator and legal expert for prestigious local and national media. He has granted interviews and served as a legal analyst on Court TV (now In Session on HLN,) Fox News TV-25/Boston, The Boston Herald, WBZ-AM Radio 1030, WCVB-TV5/Boston, Nightside With Dan Rea, Greater Boston With Emily Rooney, Money Matters Radio/Boston, and The Metro Newspaper/ Boston.
Put that expertise to work for you. You'll be grateful that you did.